Cruel Beauty
Rosamund Hodge
~Book Review~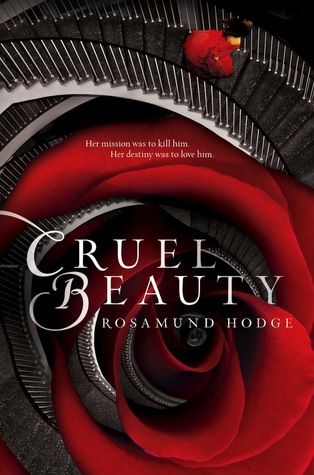 ONE OF MY FAVORITE DISNEY MOVIES from childhood was Beauty and the Beast. Besides the slow and lovely development of Belle and the Beast's romance, the house was a character in its own right, full of mysterious rooms, singing silverware, and an enchanted rose.
Cruel Beauty is Beauty and the Beast retold with Greek mythology, and it is also reminiscent of Diana Wynne Jones Howl's Moving Castle and Meredith Ann Pierce's Darkangel. Both smart choices. Although Nyx and Ignifex are not quite as iconic as Sophie and Howl, and the novel's atmosphere does not achieve the brooding, haunted feel of Darkangel, it is still magically delightful and a breath of fresh air in YA fantasy these days. For one thing, Cruel Beauty doesn't forget that it has a plot. The romance is very central to the mystery of how Nyx's world, Arcadia, came to be cursed, and the urgency for Nyx to unravel the secrets behind the demon lord Ignifex is always present.
Long ago, Nyx's father made a deal to sell her to the demon lord Ignifex as the latest in his succession of wives. Nyx grows up bitter toward her family, who have raised her to be an assassin who is expected to end the life of the man Arcadia holds responsible for imprisoning their world within a purgatory of sorts.
However, Ignifex is not the demon lord Nyx expects, and his mysterious house may just hold the secrets to saving the world. I loved all the little chambers Nyx would stumble upon, where she would experience both wonder and horrors— "Demons are made of shadow. Don't look at the shadows too long or a demon might look back" (p. 1). The romance between Nyx and Ignifex was very well-done, full of witty banter and deepening affection. I also appreciated that this is a YA fantasy book that attempts to go deeper and ask some philosophical questions; there is also the inclusion of Greek mythology, which is always welcome and gives this tale a timeless quality. While the civilization didn't feel too reminiscent of Ancient Greece to me besides incorporating the myths and prayer rituals, common themes in Greek mythology like pride and self-righteousness were well-tied in.
I am pleased as punch that there is a second book in this series as well! Cruel Beauty is well-worth investing your time in, because it takes risks and develops its plot. Bring on

Crimson Bound

!
Recommend for fans of: Dianna Wynne Jones, Meredith Ann Pierce, Leigh Bardugo
Upcoming Book Review: An Ember in the Ashes by Sabaa Tahir