SPLINTERED
By A. G. Howard
~Book Review~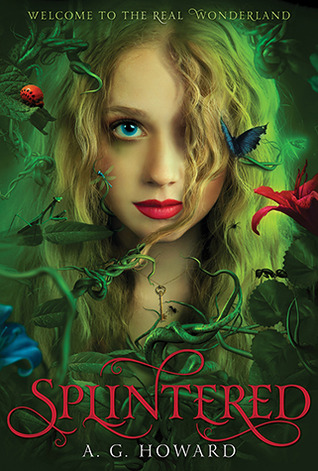 *Warning! Minor Spoilers!*
IT'S NOT EVERYDAY you read about a main heroine with a fetish for bugs. Alyssa is a descendent of Alice Liddell, Lewis Carroll's original inspiration for Alice in Wonderland. Her mother and she both suffer from the Wonderland curse: they hear bugs whisper and flowers laugh. Alyssa adopts a punk skater persona and creates intricate bug art to try and escape it, but she can't escape the alluring moth boy in her dreams: Morpheus. No longer a hookah-smoking caterpillar, Morpheus is a hot winged boy who warns her Wonderland is in trouble.
Alyssa travels to Wonderland with her best friend and secret crush, Jeb, where she must undergo three tasks such as draining an ocean of Alice's tears and defeating a Bandersnatch. Howard's writing really flows and she succeeds in bringing Wonderland to life in all of its bizarre color and contradictions.
Alyssa doesn't have much going on personality-wise, but the bug art part was unique. Her chemistry with Morpheus was definitely enticing to keep reading about. Jeb is the Rory who comes along and ruins what you hope is a promising romance between Amy Pond and The Doctor (maybe this is just me). He acts important and means well, but come on, Morpheus/The Doctor is the one with all the neat superpowers and charisma.
Of course a showdown for the throne of Wonderland has to occur, and Splintered keeps you turning through the pages, eager to see when the infamous Queen of Hearts or any other of your favorite Wonderland characters will make an appearance. Hopefully in the next installment Alyssa will perk up from being a more passive personality and the weird creativity will continue to rampage!
Recommended for fans of: Laini Taylor, Kendare Blake, Julie Kagawa
Upcoming Book Review: Six of Crows by Leigh Bardugo