NIGHTSHADE
By Andrea Cremer
~Book Review~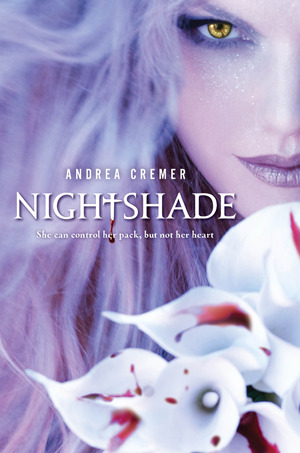 *Warning! Spoilers!*
THIS BOOK IS PARANORMAL CANDY. I binge-read the Nightshade series, cursed violently at the romantic turn of events in the final book, and then tried to get into the Nightshade prequels but just couldn't. The reason being, the world-building was interesting, but what really hooked me in the main series was the secondary characters.
The similarities to Twilight are striking, but in the right way. The chemistry between Calla and alpha wolf Rem was smokin', the bond the other wolves had with Calla touching, and the relationship between the werewolves and the Keepers tense enough to keep things interesting. This really is a case where the secondary characters grow in your heart much more than the main duo do, alpha Calla and the human boy she saves from a bear attack, Shay. So naturally, it's a bit more painful to experience all the bad stuff that usually happens to secondary protagonists, but it's definitely the type of series that's addictive.
Calla is a Guardian, an alpha werewolf who serve as protectors for the sorcerous Keepers in a world laden with monsters. She is the betrothed of fellow alpha Ren, who, much like Cassian from Sophie Jordan's Firelight series (identical plot but with dragon shifters) is much more complex and interesting than whiny, bland Shay. Unfortunately for us all, Calla spots the human Shay wandering around the woods and instead of letting a bear eat him, saves him and thus sets off a forbidden love triangle that will take three books to be resolved.
There is a bit more action in this book than Firelight. Calla unfortunately doesn't live up to her bad-ass potential in fighting but instead exhibits a bad temper instead, so don't expect much from her. However, at least we have Ren, Ansel, Bryn, Mason, and Fey who aren't afraid to get their paws dirty. Tensions flare as motivations behind why the Keepers need Calla and Ren's marital pack merge and who is the real manipulating enemy come to a head.
Overall an enjoyable read with addictive paranormal romance flair and memorable secondary characters.
Recommended for fans of: Stephanie Meyer, Sophie Jordan, and Courtney Moulton
Upcoming Book Review: Glimmerglass by Jenna Black