Exquisite Captive
By Heather Demetrios
~Book Review~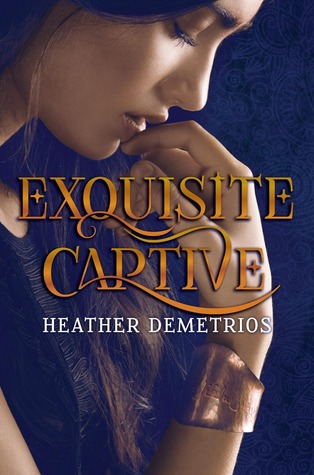 I WAS A HUGE FAN

of the Bartimaeus Sequence by Jonathan Stroud. He captured perfectly the hot undercurrent of pain and anger the Jinn felt for being enslaved to magicians and forced to carry out their will, and Baritmaeus's wit was an endless delight. Demetrios's Exquisite Captive expertly captured that struggle for me, albeit with strong, sensual undertones.
Nalia is one of the last of her kind, a royal Jinni who survived a brutal massacre of her people. She now spends her days enslaved to the powerful and mysterious businessman Malek in California, who holds a couple secrets of her own.
At first the dark relationship between Nalia and Malek was all Alicia and Diego from Gran Hotel (I sadly just finished this amazing TV series; pardon the reference), where Nalia is doing everything in her power to escape, and Malek is pulling all the stops to convince her of his twisted love. However, in my opinion, Jinn revolutionary leader Raif is no charming Julio, but more of an angsty guilt-tripping type who holds a grudge again Nalia's class of Jinn. The pair eventually fall in love while working to free the Jinn from slavery. However, where Demetrios really succeeds is creating a compelling, riveting character like Malek. You really understand everything that is driving him, even if you don't agree with it, which makes Nalia's choice at the end lead to some great character tension for future books.
The story flows effortlessly, and I was pleased that it hardly stays place in California, but incorporates areas from all around our world. The backstory behind the Jinn world and the politics that opened it up to ours creates an interesting mystery, and I appreciated that Nalia has some kick-ass powers she isn't afraid to lose.
This seductive series continues in Blood Passage, and I am eager to see where it goes!
Recommended for fans of: Amber Lough, Julie Kagawa, Leigh Bardugo
Upcoming Book Review: Falling Kingdoms by Morgan Rhodes