A Court of Thorns and Roses
By Sarah J. Maas
~Book Review~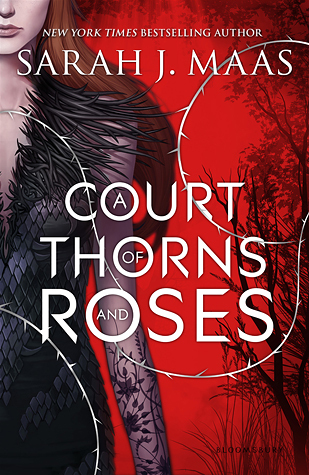 *Warning! Major Spoilers!!!*
SENSUOUS, DARK, AND TUMULTUOUS

…this is a sexy retelling of Beauty and the Beast featuring the brutality and seductiveness of the mysterious Fae. I greatly enjoyed the second half of A Court of Thorns and Roses the most.
Feyre (neat name) kills a wolf in the forest while hunting for her starving family. This wolf is actually a Fae. Tamlin, a Fae Lord who can turn into a lion-like beast, arrives at her doorstep and demands she pay for the death of his friend: either she is to come with him to live forever in his Fae court, or he will kill her.
Feyre arrives in the Fae Court. Now, she is rather brash and tends to do the opposite of every warning she receives about surviving in the dangerous Fae world, but hey, at least she encounters plenty of cool, creative Fae creatures lurking in the woods. The sexual tension grows between her and Tamlin, especially after a very provocative Fae mating ritual.
However, Maas throws in a second mysterious and handsome Fae during the ceremony, who saves Feyre from some lust-driven Fae. Rhys is a Fae from the Court of Night, which is currently overtaken by a power-hungry Fae Queen. This Fae Queen is slowly overtaking the entire realm, and Feyre discovers that it is her destiny to stop her.
Why Tamlin would ever forgive Feyre for killing his good friend at the beginning bothered me throughout the entire first part of the book. However, the second part of the book moves much faster, and I enjoyed the trials she goes through to win Tamlin's freedom. There were some dark turns there, particularly when Feyre was told to kill three innocent Fae to save Tamlin's life, and I didn't think Maas would go there. It begged a great question—did those three innocent Fae deserve to die just so Tamlin and Feyre could be together for the sake of "true love"?
Rhys was awesome and definitely captured my interest. *Ahem, move over, Tamlin*. I felt like the story just got started in the second half. I loved the twist on Feyre's sister and how their sibling relationship developed. Maas's ability to capture a dark, brooding mood hanging over the Fae realm was sensational. Overall, I'm sure we've just received a glimpse of the immersive and seductive Fae world Maas created, and I can't wait for Book 2: A Court of Mist and Fury! Read this while you're waiting for Karen Marie Moning to come out with the next installment in the Faefever series.
Recommended for fans of: Karen Marie Moning, Richelle Mead, and Jenna Black
Upcoming Book Review: Graceling by Kristin Cashore