Red Queen
By Victoria Aveyard
~Book Review~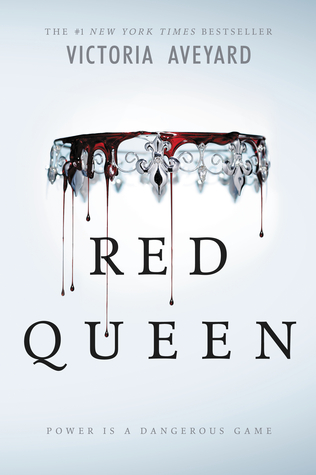 MARE BARROWS IS A RED,

which means she is a commoner, destined to serve the royal Silvers who have superpowers like mind control or fire. Mare is on the side to a budding resistance to this society until a turn of fate reveals that she, too, has magical powers. The Silver royal family responds by betrothing her to one of their sons and claiming that she is a lost Silver princess. However, Mare knows that the reality is nothing of a kind, and thus begins exploring her mysterious powers as the flames of revolution grow higher.
The training scenes of Red Queen were the best part, where Mare gets to test her lightning powers against other royals who can manipulate metal, have super speed, ect. She forms a bond with the down-to-earth Silver prince Cal, a formidable fighter with fire powers who gets all the attention. She also meets Maven, the younger prince and the son of the new queen who is more bookish, quieter, and jealous of his older brother's feats.
Beyond the training scenes, it was hard to stay invested in this book. Mare is a generic passive heroine who reacts rather than acts; Cal has a non-existent personality; and I was about to give up all hope on the sniveling Maven as well until Aveyard's twist at the end. That was a breath of relief, but I felt that it should have happened sooner. For me, the biggest problem was the lack of tension. There are seemingly no villains or anyone who is much of a challenge to Mare for three quarters of the book, which contributed to my rapid skim reading. There should have been; the queen reads minds, for heaven's sake, but the complacency upon her and Maven's side was pretty suspicious from the get-go. I was really hoping Aveyard would get there sooner, but instead it's used as a catalyst to set up the rest of the books in the series.
While mildly entertaining, not much stands out to engross the reader in this world over the myriad of other YA fantasy offerings. The most intriguing dynamic is between Mare and Maven once his secret is revealed, but the other characters were all fairly forgettable.
Recommended for fans of: Marie Rutkoski; Mary Pearson; Morgan Rhodes
Upcoming Book Review: White Cat by Holly Black